If your child (grades 7-12) was nominated to be on the Hope Squad, and they want to be a Hope Squad Member, there is a mandatory parent meeting tonight at 6:30 in the Fine Arts theater. Invitation letters were mailed out last week, so parents should have received them by now. If you are unsure if your child was nominated, please ask him/her.
Friday's HS Football game vs Flandreau Indian is at Flandreau starting at 6pm.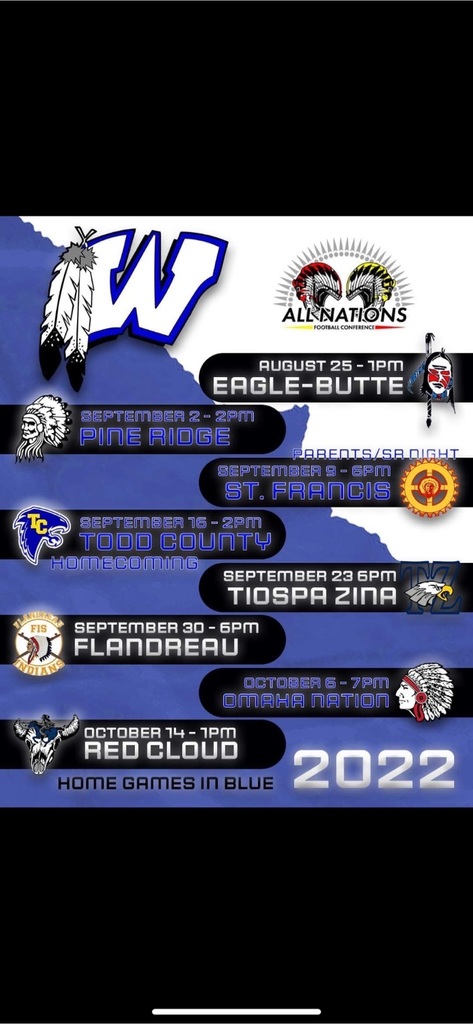 Correction! Jh volleyball at Walthill starts at 3pm
Today's activities: Jh volleyball at Walthill 4pm B and A Hs volleyball at Omaha Nation 6 and 7pm. Vs Walthill and Omaha Nation.
Jh football player: locker room will be open at 2pm, bus leaves at 2:30 for the Jh football game.
Change for the Jh and hs cross country meet in South Sioux. They will both be ran on Thursday, September 29th. Jh will start at 3pm and HS will start at 4pm. The races are now ran at the Jeff Dibble Soccer Complex located at 1280 Riverview Dr. In SSC.
Remember, no school today! Activities today: Jh football at Pender 4pm No jv football today- has been canceled
Today's activities: Girls golf at Laurel- cedar View Cc 9am
TZ is having internet issues so the stream might not work. This is the stream if they are able to get it up:
http://Reznet.com
Today's activities: HS cross country in Maple Valley, IA- girls 4:30 followed my the boys. Running at the MVAOCOU Sports Complex in Maple Valley. HS Volleyball at Lyons 6:30 and 7:30- vs Tricounty NE and Lyons-Decatur
Today's activities: Jh volleyball at Wakefield 4:15pm C, B, A HS Volleyball at home vs Omaha Nation jv starts at 5:30pm followed by Varsity. Parents/Senior night will be conducted between the jv and varsity games. Parents/guardians please be there any 5:30pm. Thanks!!
WPS needs your help! Your valuable input on the School Climate Survey is needed. Decisions for WPS will be based on the data from the survey. Thank you!
https://forms.gle/R84MK7q8Tqwewrxz7
Today's activities: Jh football at Emerson 4pm JV football at Emerson 5:30pm
Today's activities: Jh volleyball at Pender Tournament 9am HS at home Tourney 9am
Today's activities: Jh volleyball in Rosalie 4pm A team only Jh/hs cross country at Pender 4:30pm HS volleyball at Bancroft 5:30pm C team first
Please remember that today is a 1pm early dismissal for students. This was a scheduled early out for students due to staff professional development. The yearly calendar can be found on our Facebook, website, and parent/student handbook.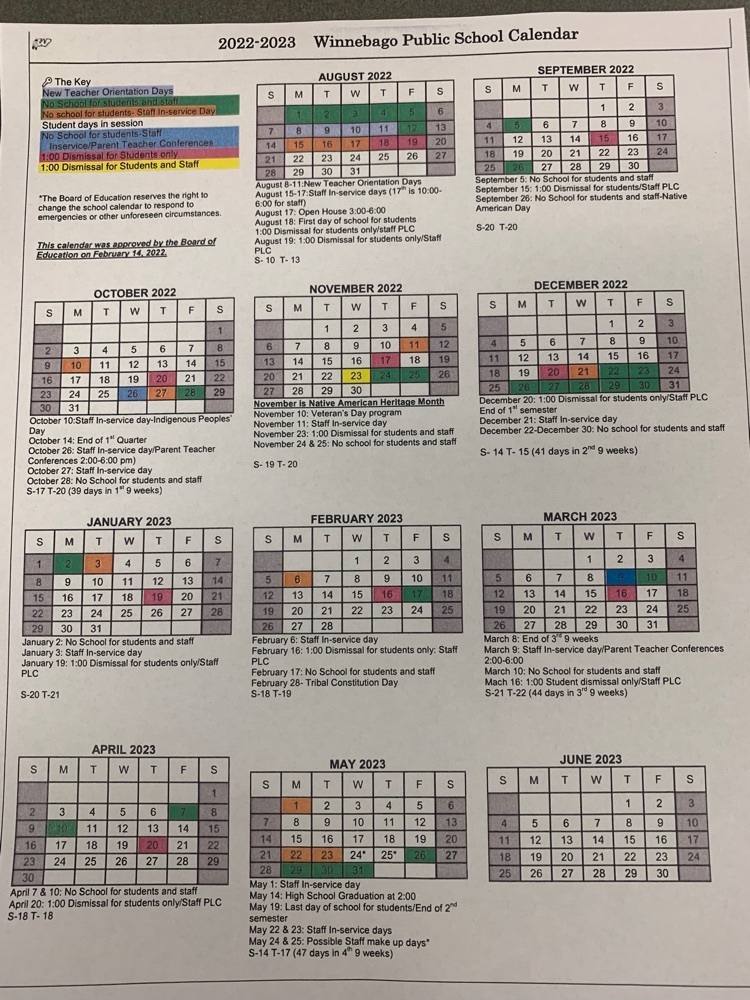 Today's activities: Coronation at 7pm in the WPS game gym. Reminder- 1pm dismissal on Thursday and Friday of this week!!